​Shirts are part of recruitment campaign to celebrate National Cancer Survivor's Month.
Our message to survivors and metastatic breast cancer thrivers? The Making Strides Against Breast Cancer movement invites you to join us! As part of a targeted recruitment campaign celebrating Cancer Survivors Month (June,) breast cancer survivors and thrivers who sign up for a 2022 Making Strides event are now eligible to receive a free, branded survivor or thriver T-shirt.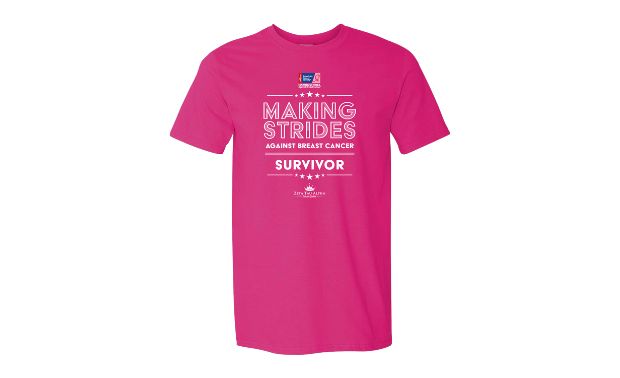 "We are excited to bring back this incentive for our courageous survivors and thrivers during the 2022 season," said Vicky Green, strategic director, Making Strides Against Breast Cancer. "We have made several proactive changes to create a more inclusive community and event for participants who are currently living with metastatic breast cancer, and the thriver T-shirt option is just one example of that progress."
Though the campaign launched earlier this month, the shirts will be available for redemption throughout the season. Everyone can help support the recruitment effort by inviting survivors and thrivers to join your local Making Strides event to be recognized.